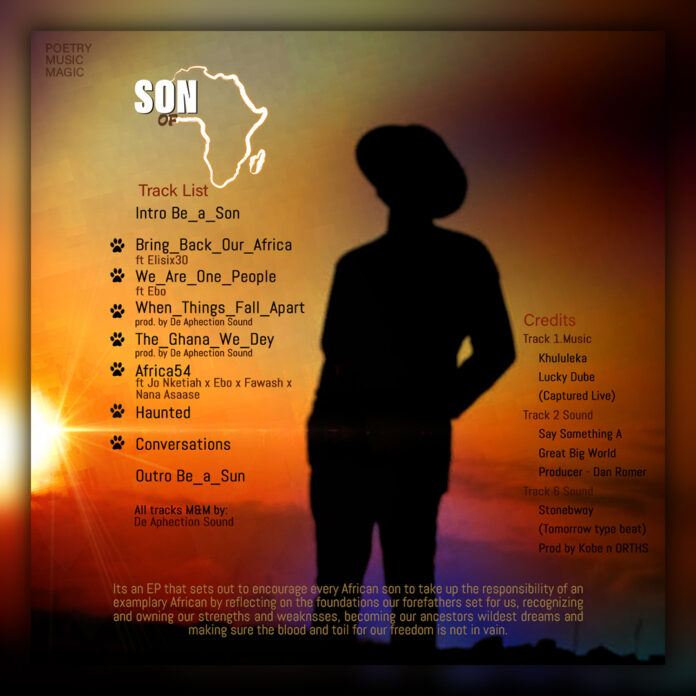 Well woven with fine threads of words to address the patterns of the African fabric, The._.Observer has done more than just his name sake. He focuses on the existent and pertinent elixirs of problems brewing continuously in the African pot.
He seeks to revisit these problems with subtle solutions that can muster such boldness on their own. From one mouth to the other, this piece of work can be described most accurately as a body of astute young wisdom and mastery of penmanship.
From 'we are one people' all through' Africa54′, the listener is taken on an unending journey of life, poetry, music and a continues revival in rhythm and pattern, in soul and spirit, to awaken the African in him or her.
It's no surprise that the collection has the master craftman himself, Nana Asaase; little wonder that Jo Nketia and Fawash, both from a female narrative, covered the expanse of true African voices.
The artistry and showmanship of Eli 360, and Ebo resonate throughout the pulse of this artwork. This sort of completeness in any poetry collection is unparalleled.
This is not something I should define in letters or paragraphs. This is what would demand an experience. And for a first collection, this is something really worth every ounce of your time.
And time, if you have any, should be used buying every bit of words and music from 'The-Son-Of-Africa'.
The Observer set to release His Debut Album
From the heart of Adenta, a suburb of Accra, Ghana, a poet rises to defy all odds in order to stamp his feet and leave an indelible mark in the industry.
His name? The observer.
With a blend of lyrical deftness and entertaining delivery, he makes spoken word poetry appealing to the masses.
For three years, the Observer has been working on an Album titled "Son of Africa".
According to him, "Son of Africa" is a journey that portrays the realities of the African dream, how far it has come and how it should go. The everyday life of an African youth is captured in each piece.
Reflecting his thoughts and the various conversations he's had with friends and strangers, he believes the fears, worries, pains and joys of a regular African is represented.
"Son of Africa" has some notable features such as one of Ghana's biggest spoken word poetry acts, Nana Asaase, revered poet, Jo Nketia and writer, Ebo Hinson who blessed the project with their masterclass. For a blend of more Africanism, it also has the feminine voice from Kenya, Fawash whose soothing tone brings in more magic.
Son of Africa is available on all music platforms.

Son of Africa by The._.observer
https://deezer.page.link/1r8X3TwmZQjdY1DA7