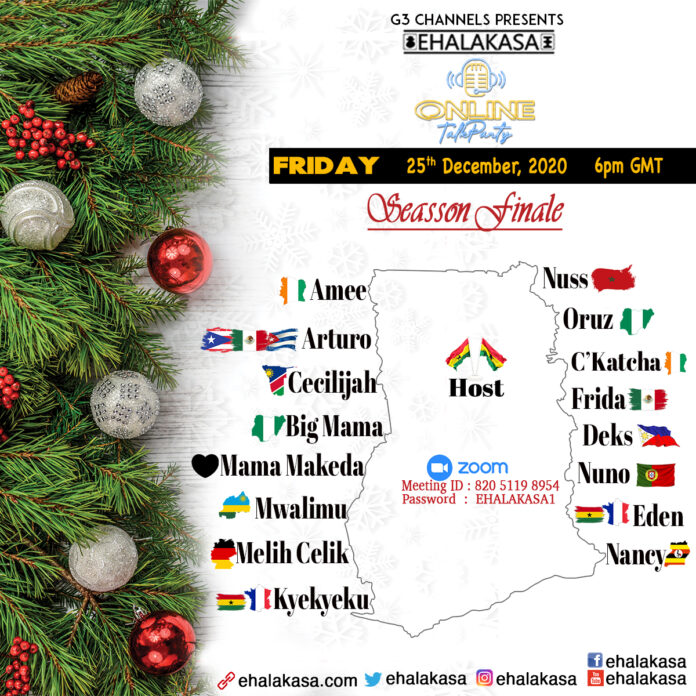 On behalf of my Team Ehalakasa, I like to invite you to join us this Friday December 25th to celebrate POETRY and to mark our last and final Online Show for 2020 dubbed "End of Year TalkPARTY PARTY"
This will be our 5th Episode in the 3rd Season. In total we've produced 31 weekly productions over a period of 7 months. This is what COVID19 has brought us, behold we are more connected than ever, thanks to CoronaVirus lol.
I like to assure you this show promises to be a great show, a relaxed one, chilled and smooth operation between YOU our Special Guests and our amazing moderators the Daunting King Natty & the Queen of Blackness Affumwaah lyrically luring you as we enjoy Christmas in WORD, POWER & SOUND.
We want you to come on and have fun with us.
We like to take this opportunity to say MERRY CHRISTMAS 🎁🎄 🎁🎄🎁🎄& A HAPPY NEW YEAR TO YOU ALL for supporting G3 CHANNELS/EHALAKASA all this years.
Kindly NOTE:
The show will start at 6:00pm / 18 hours GMT GHANA 🇬🇭 TIME.
ADMISSION FREE
I personally insist that you come into the show with a drink or a friend or both😜
The link to join us on the flyer.
Signed
-YiborMENT HRB-