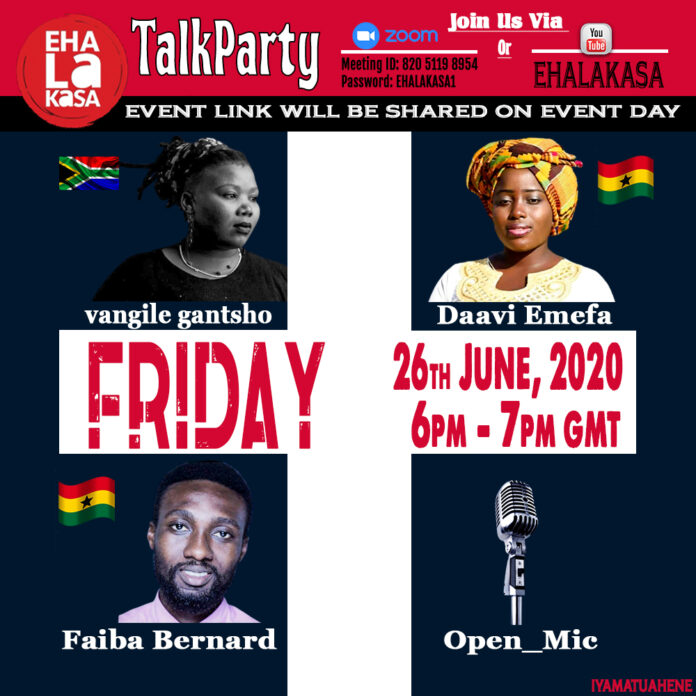 Today's TalkParty was unique. With 5 performers on bored. Hope Da Poet, Faiba Bernard, Daavi Emefa, Nii Muzik and Erfiyah from Ghana and vangile gantso from South Africa.
Nii Muzick opened the session with Let there be love shared Among is by Dave Bilbrough.
This grand opening was followed by a piece from Erfiyah titled "the road to Kwabenya"
Her piece is a poetic form of directions from Circle to her home in Kwabenya.
We also had Daavi Emefa, a poet and a nurse who blessed the mic with a piece titled "Hope". According to her this piece was inspired by how we see ourselves to be independent although we're not.
Vangile Gantso shared her first poem which title translates to "we became civilized" the poem is in a mixture of Xhosa and the English language. Significant to how both white and black people tell different stories on colonization.
"They sold us milk from our cows Grains from our lands," she says.
We also had an amazing fiery performance from Faiba Bernard.
Erfiyah came again with a second piece titled "This grace"
"This gracious piece on grace was lyrically graceful" Natty the meeting host said after the performance.
Hope the poet also shared his piece titled "walk the talk"
"Each step I take, decides my fate so I bent the bridges so I'll never look back and regret," he says.
Daavi Emefa brought us a second piece titled "town crier" which she did in collaboration with a guitar. She said she was only trying her hands on the guitar but in the end, she played like a pro.
Vangile Gantso our guest performer from South Africa carried on from there till the close of the days Talkparty session. She performed three pieces Breathing underwater", "Mama I'm burning" and "I want to speak to my children".
From Mama Makeda AKA Sandra Hooper vangile's poetry is like medicine and it's good for the soul.
Our Next TalkParty, on The 3rd July 2020 will feature Frank Langmack(Denmark), Doris_Mawusi, and Chas Boat from Ghana, You Can't miss This.