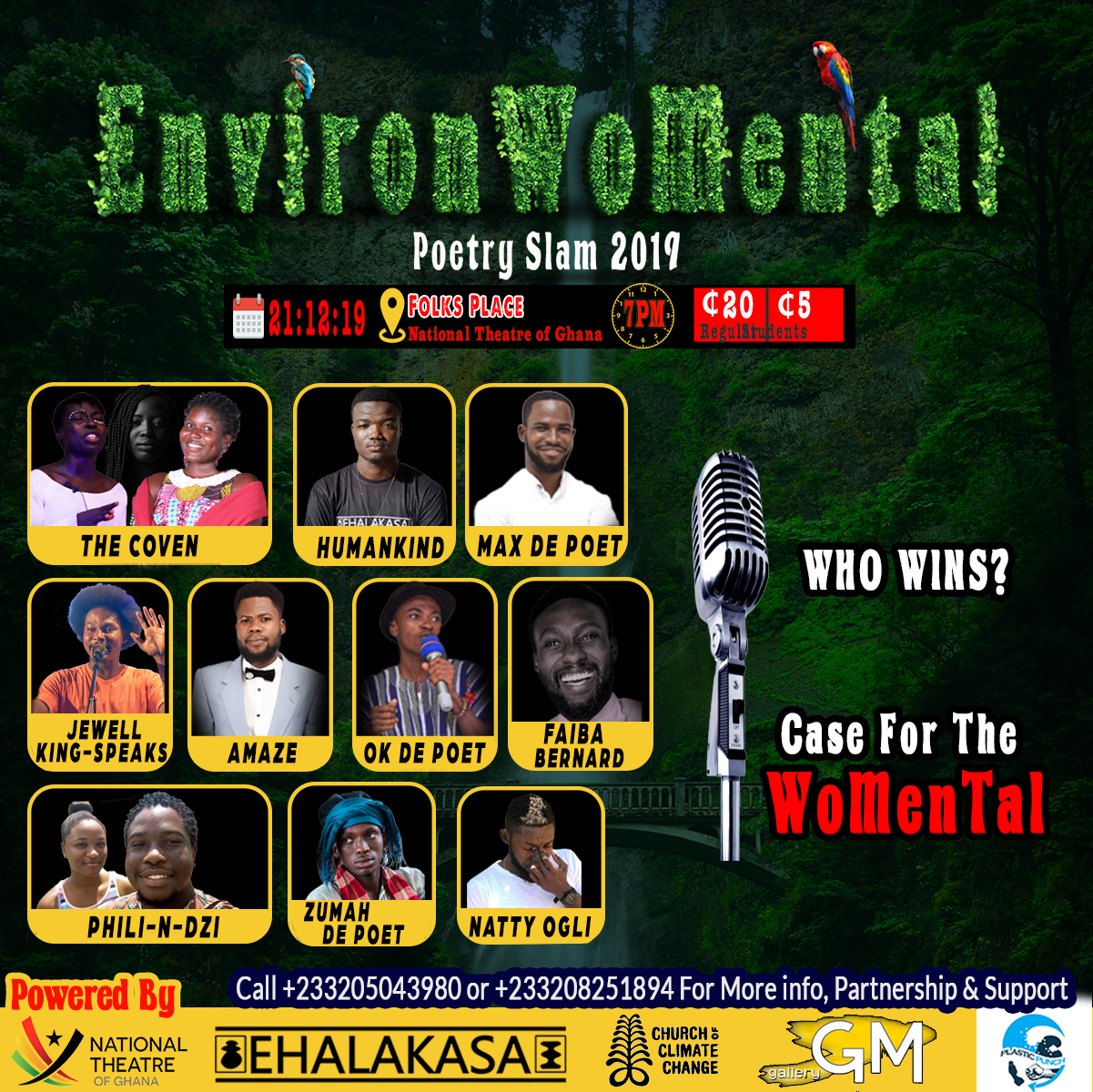 EnvironWoMenTal Poetry Slam
EnvironWoMenTal Poetry Slam: A Case for the Environment
The National Theatre of Ghana in collaboration with Ehalakasa, will be staging a literati lyrical battle; a Case of the Environment dubbed EnvironWoMenTal Poetry Slam. On Saturday December 21, the sun will rise and shine, the sky will be clear and the midair around the Folks Place of The National Theatre of Ghana in Accra will become fresh and breezy. At about 7pm the stage area will be transformed into something similar to the Bukom Arena for the first and last bout of 2019.
Over the years Ehalakasa has been advancing the course of performance Art in Ghana and beyond. We are very passionate over issues affecting the environment and other related matters. As part of our corporate social responsibility, Ehalakasa, working actively in the creative Art industry; which is now considered the verbal space industry, deem it necessary to use this medium to voice out our position and make a case for the Environment. Poetry slam, is a form of art that allows spoken word artists engage in a 3 round competitive creative lyrical battle.
In this slam Judges will be selected from amongst the audience present with two environmental activists specially invited to oversee and also judge. 10 pre-selected poets will be slamming their own original self-written pieces (case) with or without props. We are glad to be having 2 young dynamic International Guest Performance poets from Abidjan – Côte d'Ivoire, C'Katcha and Adam-Mots to grace the night with us.
Winners of this slam will serve as Green Ambassadors for a year working alongside our partner organizations such as the Church of Climate Change, Plastic Punch and Cultural Crossing to help create more awareness on the need and how to safe guard our environment. We are also happy to announce that the overall winner of this slam will be representing Ghana in Addis Ababa, Ethiopia November 2020 during the 2nd edition of the Africa Cup of Slam Poetry.
Sarah Güsten-Marr, Director of Gallery GM in the UK has offered a conditional prize package of Five Thousand Ghana Cedis (Ghc 5,000) for the first three winners and this will assist them to executing their winning projects.
Saturday December 21st 2019
Folks Place, National Theatre of Ghana
7:00pm Sharp and a Cool 20ghc
For more information, support and partnership, please call +233205043980, +233208251894 or email: ehalakasa@gmail.com