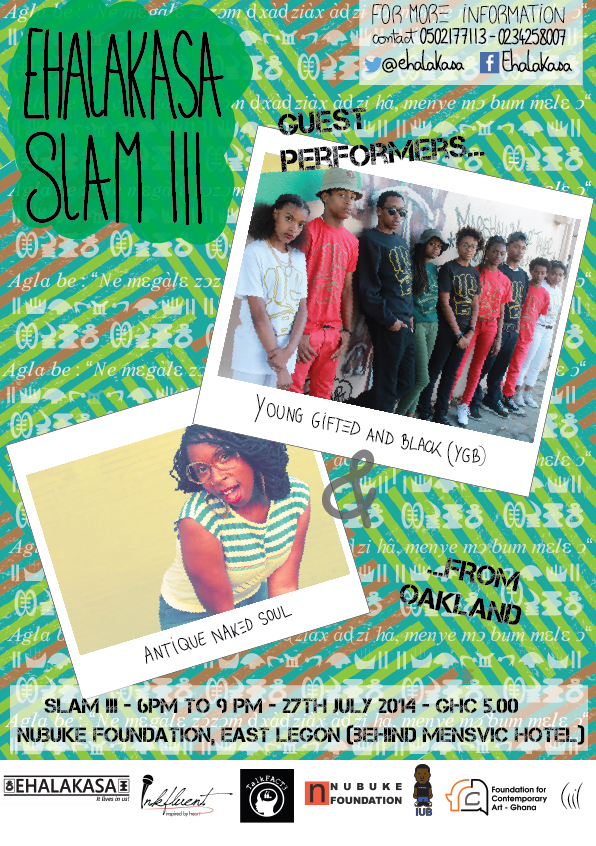 EHALAKASA SLAM III
Ehalakasa in collaboration with TalkFACT3, Foundation for Contemporary Art (FCA), Nubuke Foundation, Inkfluent and I.U.B invite you to an earful of the raw uncut beautifully woven kente lyrics from 12 outstanding Ehalakasa bards in 3 rounds of vocal magic! Previous winners of the first 2 slams include Chief Moomen, Tasha Viets-VanLear, Poetra Ama Asantewa, D.K. Osei Yaw, Anyuinsem Mu Komfopanyin Sedi and Andy. They sit on their thrones patiently awaiting the next 3 winners to be seeded from this Slam and the final 3 winners come September to face off in the grand finale in November.
This month we have two feature performers from the U.S.A join in for the Ehalakasa Slam III: Antique and Young Gifted and Black.
Antique is a singer, songwriter and educator. She is the founder of Antique Edutainment, a company that uses the science of music as a tool for healing and educating, the lead singer of a beatbox-sing soul band called Antique Naked Soul, and a solo artist with two outstanding mix tapes and a debut album in production (Spring 2015). She is also the artist in residence for Young Gifted and Black of Oakland. For more information about Antique go to http://www.antique-music.com/
Black Gold is a hip hop and spoken word group formed by members of Young Gifted and Black of Oakland. YGB teaches and learns African American History through poetry, rap and song. They make presentations all over California in the US, at schools, festivals, conferences and events. Black Gold are relics of our glorious past in the tradition of Marcus Garvey, calling all African people to be Black and Proud.
Excitement is building, positive talk keeps seeping into public spaces, musical vibe finds its traces in the fontomfrom gyrations, dance culture will take your mind and heart places and the theatre of the creative endowed with seasoned heritage stays ever amazing!
Please note the SLAM III deadline for registration is July 20th @ GHC 15. Thanks to all our members and donors who keep supporting the movement. Remember, it's not about the points but the poetry. It's not about our singular talents but the harmony of our voices. Ehalakasa! #ItLivesInUs
The bar will be open as always and socialization is ever encouraged. Be there!
GATE: GHC 5.00
DATE/TIME: 27TH JULY/6PM
VENUE: NUBUKE FOUNDATION, EAST LEGON behind MENSVIC GRAND HOTEL
Visit ehalakasa.com for more information…
Facebook: www.facebook.com/ehalakasa
twitter: @ehalakasa
instagram: @ehalakasa
youtube:@Ehalakasa