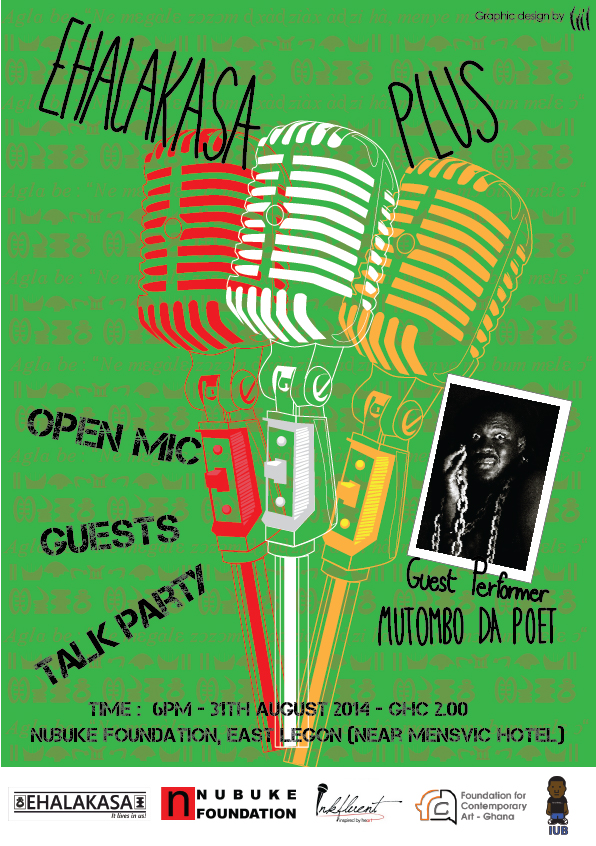 EHALAKASA PLUS IS BACK! FEATURING SPOKEN WORD ACE MUTOMBO DA POET
TalkFACT3 in collaboration with Foundation for Contemporary Art (FCA), Nubuke Foundation, Inkfluent and I.U.B once again invite you to the only event in Ghana which keeps undiluted word art on top of heap. The only boundaries could be the red brick walls of Nubuke Foundation which echo the voices of the future to the world while it STILL lives in us!
We bring EHALAKASA PLUS back in grand style this time around. By popular demand, we'll still have the OPEN MIC and TALK PARTY as well as the segment for a FEATURE POET. With reference to the latter, you'll experience a hair-raising effect because this artist has made a mark through performance, creative activism, blogging, photography, MC-ing and more.
His journey started in 2006, a period where the field of poetry and spoken was almost desolate in Ghana. He is a pioneer and a trendsetter who has defied all hindrances in paving the way for other poets, both young and old, to pursue this alluring art form. He has been featured on several websites including The Fader, some local newspapers, as well as on TV programs and on both local and international radio. He won the very first slam held in Ghana (Ehalakasa Poetry Slam) in December 2009 at Alliance Francaise and has a spoken word album entitled PHOTOSENTENCES (released in 2012) to his name. He is no other than Mutombo DaPoet- One half of the audio kungfu killers "Sankwas Bois" and creative shaman of Pidgen Music.
All poets should note that September 28th is the 4th and last Slam(OPEN FOR REGISTRATION) preceding the finale which will bring together all the winners from the preliminary round to compete for the crown.
The kasa buzz is on the upsurge! Quality edutainment keeps seeping into minds and hearts. The musical ardor, dance culture and canny theatre find their traces in the adinkra pirouette.
The bar (all sorts of drinks and bites available) will be open as always and socialization is ever encouraged. Be there! #ItLivesInUs
GATE: GHC 2.00
DATE/TIME: 31st AUGUST/6PM
VENUE: NUBUKE FOUNDATION, EAST LEGON behind MENSVIC GRAND HOTEL
Facebook: www.facebook.com/ehalakasa
twitter: @ehalakasa
instagram: @ehalakasa
www.vimeo.com/ehalakasa